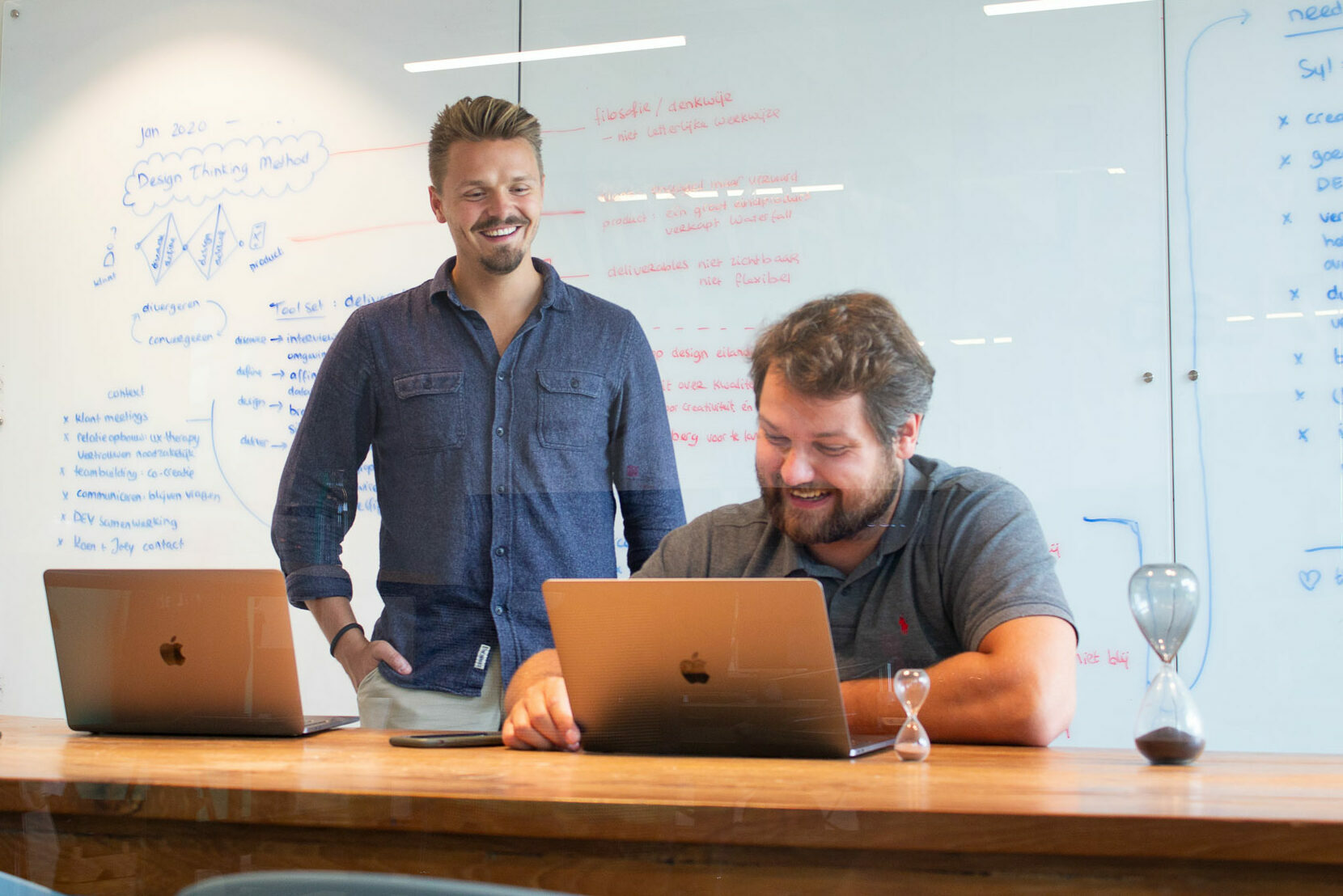 Discover The possibilities of IT
Discover growth opportunities during the discovery workshop.
In several sessions, we uncover bottlenecks and together form a digital solution. Our IT Accelerators have a lot of experience in translating business objectives into software projects. They help you to think out your software project.
The result is an independent plan of action and advice, whereby the scope of the project is tailored to your budget.
A clear plan in four sessions
Vision & Process

In the first session, we establish the basis. We formulate a vision and work out the desired process.

In order to help you as best we can, we want to get to the core of your problem. Knowledge of the organisation is essential in order to develop software that seamlessly connects with daily operations and at the same time matches the core values and strategy.

Define functionality

We analyse the process and see what functionality is needed to support it in the best possible way.

The digital ambition only becomes really tangible when the functionality is set out in detail. Based on T-shirt measurements, we estimate the technical complexity together with a developer. This results in a functional design; a clear overview of everything the application has to comply with.

Define scope

You formulate a realistic scope for a first version of the software based on your budget with our IT accelerators.

Not every functionality is equally important. We therefore go through the functional design again to prioritise the functionality. Which are must-haves and which are nice-to-haves. In this way, we can make good choices for a feasible scope.

Advisory report

Our IT accelerators work everything out and present an advice. Afterwards, a complete report is delivered.

The result is a comprehensive advice plan that you can get to work with immediately. We strive to offer maximum added value in order to really help our client one step further.
Involved stakeholders
Because all stakeholders are involved in the Discovery Workshop, there is immediate commitment from the organisation to think along with the development of a digital platform.
Clear plan
Our IT accelerators summarise the sessions into a clear plan of action that you can share with other parties. Gain immediate insight into the functionality and technical complexity.

Investment insight
We agree together on what the minimum viable version of your product could be based on your budget. We also look at what might be of interest thereafter.

Moving forward with development
If the plan appeals, our development team can proceed with the development of the software or app. In two-weekly sprints, they deliver working parts of your software.